Day by day we are coming up with reviews on cryptocurrency websites, trying to reach out to the confused ones and those who don't know what platforms to use. With the trending cryptocurrency, one would need a super platform that he/she would trust to trade.

We recommend that don't trade if you feel you are under the influence of FOMO. Try going through our other reviews and you will for sure grab something that will give you the correct confidence. Today we are going to focus on Bitcoin code. Is Bitcode legit? well, you are about to find out. Keep reading.
Product: Bitcoin Code
Website: www.bitcoincode.com
Owner: Steve McKay "Most likely a fake name"
Price: Minimum $250
Who is it for: People looking to trade Bitcoins on autopilot
Overall rating:
(1 / 5)
What is Bitcoin Code about?
Ever been online maybe reading some news and a pop up just appears from who knows where? well, what was it? did you click on it? where were you redirected to? Most of the times the pop-ups come up as the Bitcoin code opportunity, promising you to earn a certain amount of cash on autopilot. Mostly if you are watching or reading business news, this Bitcoin code pop-ups seem to be falling from above every now and then and that how many come to know about Bitcoin code.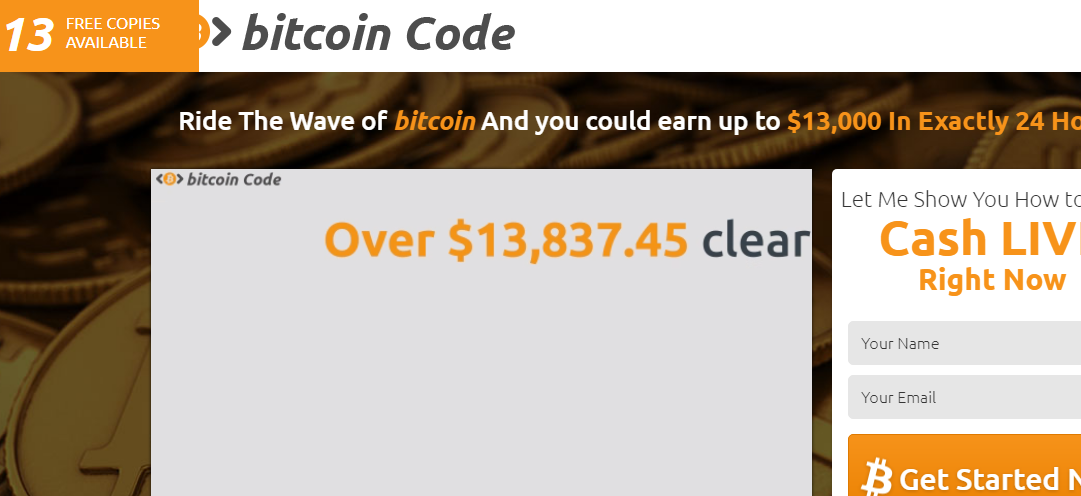 In simple terms, Bitcoin code is a trading platform that trades on autopilot. Meaning after you join you will invest a minimum of $250 and let the software do the rest. Come check the balance after 24 hours and as they claim your balance will have reached height of above $13,000
Here is the big question. Is this for real?
---
How does it work?
Bitcoin code is nothing but just a software that performs auto trade without any user-driven clicks. It is not something new since this kind of opportunities has been there before. They are just trending so much because of the trending cryptocurrency.
Mark, you they all have a common thing they do to their investors…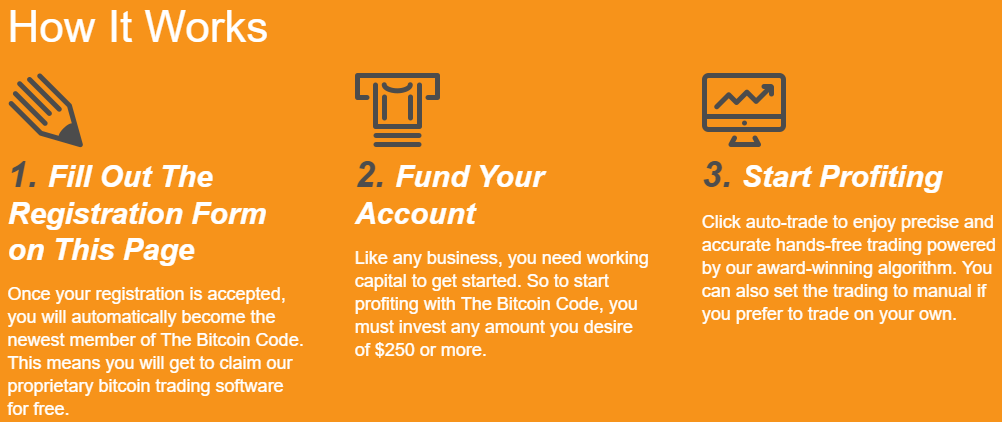 They NEVER work as hard and determined to earn $13,000 as they promise, and they always leave people feeling like they were scammed.
---
The product/service
The platform is so simple to use. As for me, I don't like an easy thing, I tend to run away when the deal is too good. the products and services offered by this broker are also way not complex.
An advice for your ears only NEVER includes your real number when signing up for your free loophole algorithm" Code cracking program. Reason being if you do, you are going to get unlimited calls from the broker's salesgirls try to get you to invest.
The product they say its free costs your full amount of $250 minimum. This means for you to trade on the autopilot mode of the platform, you will need to invest $250. It is nothing more than just a button that you can select autopilot or trade on your own.
The broker is named "GreenFields" and is NOT the best broker when it comes to trading with Cryptocurrencies.
If you want to read the review of the broker that got voted the best Cryptocurrency trading option in 2017 then click the link below:
==>click here to read about that one (Awarded Best Crypto Trading Platform of 2017)
---
Who is the owner?
I googled Steve Mckay and I didn't believe what I saw. Very many edited images of Steve Mckay circled in red indicating that he is a scam. The pictures give very clear indications that the guy does not exist.And if he does, not exactly as they say it in the explainer video.
This is very common tactics with scammers. they buy models images and later acquire the rights to it and that's  the image of the scammer.
The point is if the broker is so proud that is making money for his clients and every day he is making profits, why would he go ahead and put a stock face on his platform. If he knows he is legit and proud, let him sho his face. It is very rare to see legit brokers uploading stock images.
---
Fake testimonials?
Do you know how fake testimonials work? Did you know you can pay someone just $5 to talk something nice about you, your company or your website? This is exactly what Bitcoin code has used. They hired someone to talk how he has made money with them so that the broker can create a form of FOMO in you. With someone confessing he made it on Bitcoin code you would feel that you are missing out and without any twice thought you would invest your hard earn $250. before you realize it you will one of the victims scammed by Bitcoin code.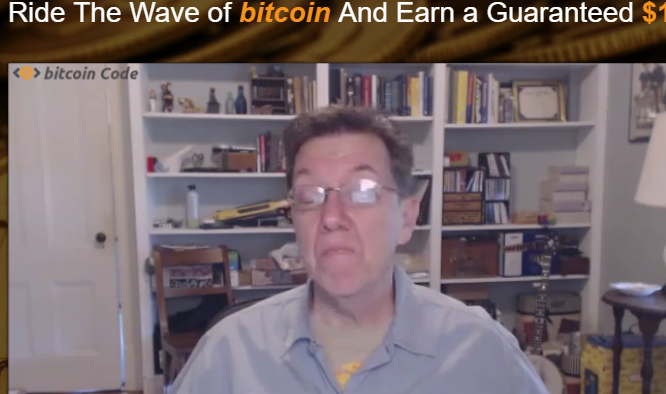 You can hire an actor to record a fake testimonial for you (or record anything else) for as little as $5 on websites like fiverr.com for example.
So, please do not let the testimonial create FOMO in you, dig deeper to find facts and know more.  it was so not in order seeing the guy online talking about home products. Is it a coincidence? I will tell you what, he is the best at making fake testimonials. Please don't be angry, it is his Job…
---
$13,000 in 24 hours, Really?
Is this for real? Can you really make this much in 24 hours? You know sometimes people ought to be realistic. The new generation of people is not easy to manipulate. If you can make someone earn this much in a day, why is it had to review your true identity?

It is true one can make this amount of cash but not at Bitcoin code. They are hiding too much information about themselves. Plus, don´t get it twisted though, you might do it with Bitcoin Code, however, you are going to have to invest a lot more than the minimum $250 to have a fair chance of doing it.
For me, I would rather learn how to trade and trade in legit proven platforms. Plus I enjoy spending money I worked for.
There are platforms that offer you a demo account, step-by-step tutorials, education, etc for FREE so you can practice before investing your own REAL money.
SimpleFX is a platform that offers all of the above for FREE, it was also recently awarded as the Best Cryptocurrency Trading Platform of 2017.
**Click here to read more about SimpleFX 
---
Is Bitcoin Code a scam?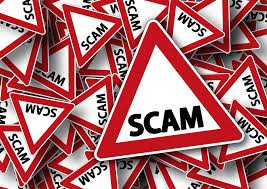 So, is Bitcoin Code a scam or not? Well, I would call it a scam for a couple of reasons, First, I don't see why they have to ask me for $250 first to be able to trade. There are a lot of sites and trade platforms that are offering as low deposit as $1. why would I go for Bitcoin code? I love testing something first.
Plus, the promises of $13,000 guaranteed in 24hours? is just so fake I wish they even promised something like $1000, it's a bit more practical
I would absolutely NOT recommend this, at all, my friends.
Instead, I would recommend that you focus on things that actually work and things that are transparent about their owners, business model, income claims, etc.
If you want to learn what to look out for (would strongly recommend that you do) then you might want to read the post on how to avoid crypto scams, visit the link below to get educated and potentially saved from a lot of headaches
Learn to avoid Cryptocurrency scam Click here <==
---
Final words and verdict on Bitcoin Code
Overall rating:
(1 / 5)
I think I shined enough knowledge of Bitcoin code. It has too many red flags and trusts me you don't wanna be part of it. It walks, behaves, uses same tactics as any other scam out there.
For you to be able to trade on cryptocurrency or any other thing online, you need to do background checks and be conversant with whatever you come across.
Also, please do NEVER invest more money than you can afford to lose into ANYTHING! WHATSOEVER
Stick to that rule of thumb and you will be just fine.
If you are interested in learning how to trade, and even trying how to do it with "demo money" then check out the link below:
==> See my #1 cryptocurrency trading platform <== 
If you found this review helpful, make sure to share this by using the share buttons below (Facebook, Twitter, etc) as it can help others!
I wish you the best!
Ephraim,
Crypto trader and blogger on: