This review will be about the BitcoinIRA.com website. What is BitcoinIRA.com? A scam or a legit investment option? Are there better alternatives out there for you? These are some of the main questions this short review will focus on.
Product: Bitcoin IRA
Website: www.bitcoinira.com
Owner: Camilo Concha (CEO)
Price: Depends
Who is it for: People looking to move cryptocurrency inside of an IRA
Overall rating: 
(4 / 5)
BitcoinIRA.com Review – Intro
Bitcoin IRA is a new company that was founded in 2015 and is an IRA (Individual Retirement Account) custodian that deals with bitcoin and some other cryptos. They are pioneers in this particular niche since they were the first company to offer bitcoins inside an IRA when they launched back in 2015.
---
How does Bitcoin IRA work?
The process of getting started is pretty simple, it works in 4 steps (see below):
Fill out your IRA application
Transfering your funds from an existing IRA or a 401k  into an IRA
Purchase bitcoins (through a scheduled phone call, to perform a live trade)
Access to your Bitcoin wallet
---
The products and services
The crypos offered by bitcoinira.com are the ones below:
Bitcoin
Bitcoin Cash
Ethereum
Ethereum Classic
Ripple
Litecoin
---
Who are eligible to roll over to a Bitcoin IRA?
This service is only for people living in the U.S.
They can roll over funds from their existing IRA, Roth IRA, SEP IRA, SIMPLE IRA, 403b, or 401k into a self-directed Bitcoin IRA.
---
The fees
You ALWAYS want to know what fees you are going to have to pay for before making a decision to go with a company like this. There are just too many reports online of people getting "surprised" and completely ripped off by so-called hidden-fees. Transparency is what you want.
On the Bitcoin IRA website in the FAQ section you can find this exact text (See excerpt below):
Bitcoin IRA charges a one-time fee for our complete services of setting up your account, rolling over funds, executing the exchange, and securing your funds. We ensure the safety of your transaction and complete IRS compliance. There is an annual custodian fee of $240 and small management fees in addition to this. Cryptocurrency is a unique product that requires special security and management
P.S. With companies like this almost all scams and ripoffs take place with so-called hidden fees. You should be very clear on exactly what fees that are associated with setting up and maintaining an account with a company before you do any business. You need to know that there are many "questionable" custodians out there.
**Click here to read about my #1 recommended Crypto IRA custodian (a 100% transparent option)
---
Their support system?
One thing that I personally always put a lot of importance on when it comes to the quality of a support system is if you got a live chat function to use for your questions.
The BitcoinIRA.com website does not have this. What they got is a phone nr for you to call with your questions.
Do they have e-mail support?
Nope, not that either…
---
Is their storage a secure option?
The storage BitcoinIRA.com use is BitGo, a good alternative as it uses so-called cold storage (meaning you store your cryptos offline, no risk for hack attacks). That is, of course, a good thing, you do NOT want to store a bigger amount of cryptos online as that is absolutely not risk-free.
They provide you with three different (unique) "keys" for security reasons. You also will have to go through both ID and voice verification before you can perform any kind of trade.
Important to mention here:
The storing of bitcoinira.com is good, no question about that. There is a custodian that offers (listen to this!) even a more secure storing for you… Not only that, they even FULLY insure your cryptos also in case of ANY scenario possible.
**Have a look at a custodian that uses the worlds safest storage by clicking here!
---
Is Bitcoinira.com a Scam?
So, Is BitcoinIRA.com a scam? I have to say no on that, however, if it is the one for you or not is another story, and I would not recommend it, to be honest.
First of all, you have to think about that the company has not been around for much time at all, only since 2015. Sure, cryptos is a pretty new phenomenon but just want to point this out for you.
The support is NOT good at all (at least not in my book), I mean, no e-mail address and no live chat?? (BIG minus).
---
Other online reviews and ratings
What are some of the most well known and trusted review and rating sites online have to say about BitcoinIRA.com? Let´s find out (see below)
BBB

Overal rating: N/A
BCA
Overal rating: AA (out of 0 reviews and 0 complaints??)
Trustpilot

Overall rating: N/A
Trustlink
Overall rating: N/A
The conclusion from this: Well, there are pretty much no reviews at all to be found on the major sites in this subject, that is alone is a little strange. One explanation for this can be that the company is very new. But 0 reviews is still 0 reviews, and strange I would say…
However, on the bitcoinira.com Facebook page, you can find 107 reviews with the average score of 4,5/5 stars… Keep in mind that if you own a Facebook page you are also in total control of what (and what not) gets published there…
Below is an example of complaint from a client of bitcoinira.com (see screenshot below):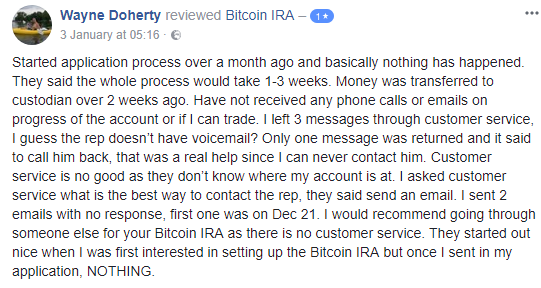 ==> Click here to see a better option (1,000s of reviews and 0 complaints!)
---
The pros and cons of bitcoinira.com
One thing that is always good to do before deciding to do business with a company is to consider its strong points against its weak points. Below I have pointed out some pretty obvious ones to make this job easier for you:
The good
Offer other cryptocurrencies than just Bitcoins
Cold storage
Not many negative reviews online
The bad
Company has not been around for long
The reviews from real users can only be found on their OWN page.
Support is not good (they have no contact page on their website)
May not be transparent about the fees associated with maintaining your account
---
Are there better alternatives for you?
I would say yes, absolutely yes. The absolute best one I can recommend is one that has been in business since 2009 as a precious metals IRA custodian, and that included cryptos as an option for their clients last year. They got 1000s of positive reviews that you can find everywhere online (and not only on their own page). Other than that they also offer the worlds safest storing and they even fully insure your cryptos in case of any scenario possible (!)
==> Click here to read about that crypto IRA custodian instead <==
---
Final words and verdict on BitcoinIRA.com
Overall rating: 
(4 / 5)
Ok, I think I have made my point pretty clear on this one, I have to call it legit, absolutely. However, there are some pretty serious red flags also I would say.
For now, I can either give a higher or a lower rating than an "average" 3 out of 5 stars and it feels completely fair for now. This can of course change to a higher (or lower) as I will make sure to update this review as soon as any "news" comes up on Bitcoin IRA.
I can simply not recommend this when there are a much more established and "confirmed" safer and more transparent option, with real owners and thousands of ONLY positive reviews…
As always it is up to you but I hope this review has made you think about this… If you want to check out that one instead simply click the link below to read why they might be a much safer option for you:
Hope you liked the review and found it educating, now you should have a better view on BitcoinIRA.com and if it is something for you or not. If you have used their service please share your experience below as it can help others. Also, if you got any other question about this review I will be more than happy to answer them below.
To your success!
John
Founder of: King Crypto