Today we have an interesting review in store for you, this is the Cryptocurrency Alliance Review. We look at why you might want to join, what you can expect and what other benefits this program, or community got to offer you.
Product: Cryptocurrency Alliance
Company: Clever Investor
Owner: Cody Sperber (CEO)
Price: $98/month
Who is it for: People who want to earn on cryptos (beginner – experienced)
Overall rating:
(4.7 / 5)
The Cryptocurrency Alliance Review – about
The Cryptocurrency Alliance is a program that will educate you in the crypto space. It is like an encyclopedia of cryptos and if you need to get the base stuff in place it got you covered. It will also (if you want) go deeper into more advanced stuff as how to make money on trading, even when the market goes down. It allows you to be part of a community, get answers to your questions and maybe the best part, be notified on new interesting coins that hit the market.
In short, the program will help you get an advantage in the (by far) most profitable market there is the crypto market.
The founder of the program/course is Cody Sperber. He is also the founder of the well-known and successful Clever Investor company, that is about real estate investing.
P.S. Click it to start the above video (opens in new window)
---
How do you start?
It is very simple to get started, first of all, you got to purchase the membership. It is a monthly cost of $98 and you are a member for as long as you want, there are no obligations here.
Once you have paid for your first month you will get instant access to the member's area where you got a lot of material to put your hands on.
---
What´s included?
The thing that might interest (and tempt) you the most with everything that is included with the membership is the fact that you will get notified on new cryptos hitting the market that got the potential to make you 100%, 1000% or even more in only 1 year.
We have seen it before in the crypto space and we will see it again, new winners are being made as new coins keep coming.
That alone might be worth to join the Alliance and pay the membership cost for only.
However, there is a lot more to the membership:
Access to industry Experts
The best and the smartest in the crypto space came together to form Cryptocurrency Alliance. Look over the shoulder on the most profitable players in the game.
The community
Having a community is something that will benefit you a lot as you can ask questions and be up to date with stuff happening.
Get info before the masses get it
Depending on media and internet for your crypto info, means you are far behind. As a member of the Alliance, you are with the ones who create the market.
Exclusive investing tools
Get unique tools that cannot be found elsewhere and are worth far more than the actual cost of the membership. Get notified whenever there is a market shift, set up customized currency alerts, etc 
Get free extra training
The Alliance has an interest in seeing you succeed, they will give you top-notch free training. It can be compared to a lot of training online that charge thousands of dollars, here you get the same training (or even better) for FREE included in your membership.
---
How much money can you make?
The short answer to this is, you can make a lot.
Your first goal might be to make back more than you pay for the monthly membership, and that should be very easy to do if you simply implement what you learn inside the Alliance.
Keep in mind that you will, for example, get notified on winning coins, get educated how to make money even when the market goes down, 5 ways to make a passive income with cryptos, etc.
So yes, the earning possibilities are real here.
P.S. It is of course up to you to implement what you learn and take action, only joining the program won´t make you any money, you need to get involved in it to reap the benefits.
==> ONLY through THIS LINK – get a bonus worth $1,497 (Crypto Coin Profits)
---
What is crypto coin profits?
Crypto Coin profits is a course that is currently being sold online by Clever Investor for $1,497. It covers pretty much all you need to know to get started and make a profit in the crypto space. It is a great course that easily can be considered one of the best out there to getting educated on the subject of cryptos. Personally, I have bought many different crypto courses and I have to say that this one is better than most of the others I have come across.
A screenshot from inside the member's area where you got the first initial lessons in the menu to the left on the screen: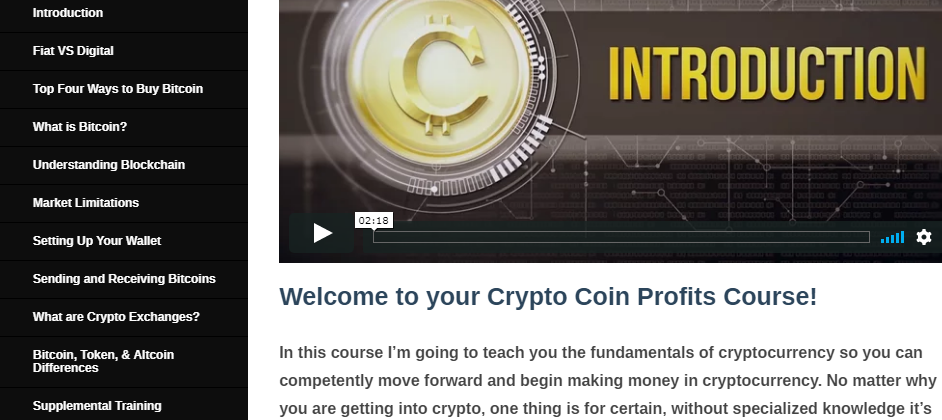 ---
How good is the support?
For a program like this to be not only good but great, good support is a must. So how good is the support here? It is very good, you can get any question you might have answered here. First of all, you got both a whole community and also a Facebook group where you can ask other members and also the creators of the program who are interacting with the community.
Then you also got the more "classic support" page inside your member's area where you can either submit a support ticket or simply call the phone nr provided with your questions.
---
Is Cryptocurrency Alliance a Scam?
No, Cryptocurrency Alliance is not a scam, of course not. It is an educational choice and also a way for you to get an advantage in the crypto industry, the (by far) industry with highest earning potential out there. Have personally been a member for around 3 weeks now and I will absolutely continue to pay my monthly cost as I get out a lot from the membership.
Below is the rating of the company (Clever Investor) behind the Cryptocurrency Alliance:
BBB

Overall rating:
(4.7 / 5) (out of 9 reviews)
---
My personal experience
The biggest reason why I personally joined the Cryptocurrency Alliance was that I wanted to get alerts on new hot cryptos hitting the market and I can happily say that I got advice on one directly after the welcome video.
However, what I like the most so far is the weekly webinars. Every Thursday there is a new topic up, it is presented through a live webinar and everyone who is attending can ask their questions live and get them answered in real time.
---
The pros and cons
As always on our reviews, we make sure to provide you with both the negative and positive sides of the particular company we review and this time is no different, below you got some clear ones on both sides of the spectrum:
The good
Get to know things before the masses get to know about it
Very good training and additional education
Weekly webinars
Great tools
Access to a community
Great value for the price (no obligations)
The bad
Does not have a live chat function
---
Final words and verdict

Overall rating:
(4.7 / 5)
Ok, that sums up the overall picture of this program pretty good I would say. This is not only a good option but, in my opinion, a great option for you and you might want to consider joining and at least try it out for 1 month to see if it is something you can find value in and take advantage of.
The price, $98 per month might seem like a high cost, however when you compare the value you get for it, and especially when you compare to other similar programs online you quickly realize that it is one of the lowest cost options out there.
The very high rating 4,7 out of 5 stars is on point here I would say, it can of course change to an either higher or lower one as we make sure to update our reviews as soon as anything new comes up on the products we review.
As always the choice is up to you,
Please keep the good old saying "Never invest more money than you can afford to lose" into cryptos or ANYTHING else for that matter.

---
I hope you found this short review on the Cryptocurrency Alliance to be helpful. If you are (or have been) a member, please share your experience in the comment section below as it can help others. Also, if you got any other question about this review I will be more than happy to answer them below.
Be social and help others! Share this by using the share buttons below (Facebook, Twitter, etc)!
I wish you success!
John
Founder of: KingCryptos.com